Eastern Dispensary
Eastern Dispensary Request for Evaluation
On March 27, 2014, Mary Beth Betts, head of the Landmarks Preservation Commission's Research Department wrote the Friends of the Lower East Side declining to recommend the Eastern Dispensary for designation:
After a careful assessment of the property's architectural and historical qualities, the committee found that the property lacks the significance necessary to be considered eligible for designation as an individual landmark…. the committee finds that the property does not meet the criteria for designation, and will therefore not be recommended to the full Commission for further consideration as an individual New York City Landmark.
Read the complete letter here.
Friends of the Lower East Side submitted an Urgent Request for Evaluation to the New York City Landmarks Preservation Commission for the Eastern Dispensary, 75 Essex Street (now Eisner Brothers Sporting Goods.) On March 25, 2014 Community Board 3 passed a resolution in support of calendaring and designating this important building. Read the Community Board Resolution here.
You can see our original January 2013 Request here.)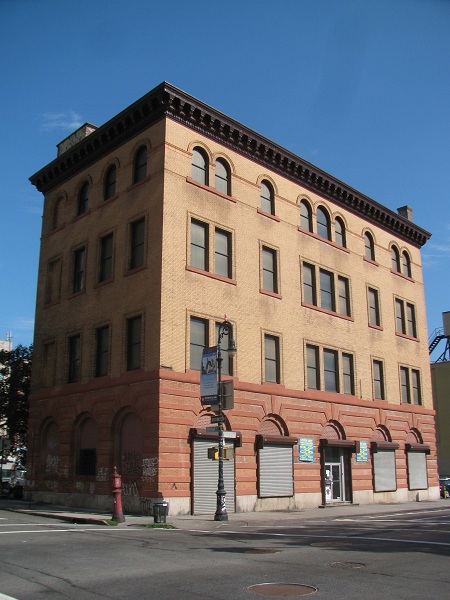 It was our contention that designation was urgent because the building is surrounded by Site 1 of the Essex Crossing (formerly Seward Park Mixed Use Development) and it was for sale. While the building is not on the site, it could be damaged by work conducted around it or it could be diminished by inappropriate development surrounding it. The dispensary is eligible for the National Register, is included in the National Register Lower East Side Historic District, and is mentioned in the Environmental Impact Statement for the Development.
Now that he is safe from landmarking the owner has re-listed the building for $30 million. Read all about it in The Lo-Down story.
History:
Eastern District Dispensary was established on Grand Street in 1832, during a major cholera epidemic that claimed the lives of more than 3500 people, mainly destitute Irish immigrants crammed into filthy hovels in the fourth and sixth slum wards of downtown Manhattan. It was the third dispensary in the city; New York Dispensary, White & Centre Streets, founded in 1791, was the first. Dispensaries were municipally funded, medical walk-in facilities offering free or low-cost care to the poor, and post-graduate training for young doctors. Dispensaries, such as Northern Dispensary (165 Waverly Place established in 1824, building erected in 1831) and Elizabeth Blackwell's NY Dispensary for Poor Women and Children (207 East 7th Street established in 1853) were located in impoverished immigrant neighborhoods to serve people living and working in crowded quarters who were particularly vulnerable to life threatening contagious diseases like cholera, diphtheria, yellow fever, typhoid, smallpox and tuberculosis.
In 1884, at a previous location in rent-free space in the old Essex Market, Eastern Dispensary treated close to 23,000 patients and operated with 16 physicians, a dentist, several nurses and a janitor with a total annual operating cost of just over $5,000, which was provided by the city – an average of 23 cents for each person treated. When Eastern District and Good Samaritan Dispensaries consolidated and erected the building at 75 Essex Street in 1890, there were close to a dozen of these publicly financed neighborhood dispensaries operating in Manhattan. Funding for the land and building – a total of $112,000 – was raised through contributions; annual operating expenses were funded by the city. The ground level and first floor held physicians' offices, quarantine rooms and an apothecary dispensing medicine for a cost of ten cents. Upper floors were used for waiting areas and examination rooms. After a law was passed in 1899 that only the indigent could be treated at city-operated dispensaries, visits became a source of shame and the number of patients declined. Dispensaries gradually phased out as hospitals opened outpatient clinics. After Good Samaritan/Eastern District Dispensary closed in the 1950s, the building was converted to store, office and storage space. It is currently occupied by Eisner Brothers, a sportswear retailer.
Description:
The dispensary was designed by architects Rose & Stone in the style of a freestanding Italianate palazzo with a symmetrical façade organized in a tripartite division. When erected on the northwest corner of Essex and Broome Streets, in a neighborhood composed mainly of rows of tenements, it stood as an example of municipal responsibility and philanthropic concern. The four-story building is clad in orange brick on the first story and tan brick above, laid in Flemish bond. On the first story of the façade facing Essex Street, a rhythmic series of five arches pierces the center section with projecting belt courses radiating from the central arched voussoir entrance, and four arched voussoir windows flanking the entrance. Under the bell courses, now coated with cementitious parging, painted reddish brown, is brownstone of a similar color.
Above the arches is a row of nine vertical sash windows, surrounded by moulded brick, repeated at the third story, and nine arched windows at the fourth story. The southern elevation echoes the central-section design elements with a pattern of three arched voussoir windows on the first story and four rectangular windows on each of the upper storeys. Crowning the building's eastern and southern elevations is a row of dentils and a large roof cornice with console brackets. The northern and western facades are of unadorned red brick punctuated by an assortment of rectangular windows.
Architects:
The architects of the dispensary were Charles Frederick Rose and Howard Colton Stone whose firm, Rose & Stone (1887-1894) was located at 1 Madison Avenue in the Metropolitan Life Insurance Company Building. They are best known for their designs of the Isaac Vail Brokaw Mansion, erected 1887-1890, an enormous urban chateau, in a premier location across from Central Park on the northeast corner of East 79th Street on a stretch of Fifth Avenue known as "millionaire's row." Demolition of the Brokaw Houses, which began in February, 1965, prompted a scathing editorial in the New York Times by Ada Louise Huxtable. She denounced the loss of the Brokaw Mansion, and called it "one of a group of gracious and distinguished structures of superior quality in a setting of rare elegance." The outrage that followed its destruction played a significant role in advancing the landmarks legislation for New York City, adopted on April 19, 1965.
Rose & Stone followed their success with the Brokaw Mansion by designing a harmonious row of neo-Renaissance residences (1892-1894) at 14-20 East 72nd Street and 22 East 72nd Street, all extant in the Upper East Side historic district.
Read more on Samuel Gruber's blog.
And some history on the Tenement Musem blog by Allison B. Siegel.